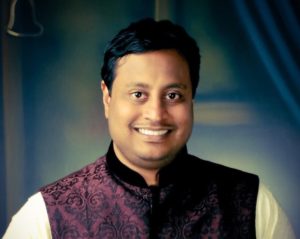 Sai Kurmana, MBBS, MPH is a senior epidemiologist and chair of the Epidemiology Section at the Mississippi Public Health Association. Sai is grounded in a strong belief in eliminating the structural barriers to equity for vulnerable populations. Sai holds leadership positions with local, state, regional and national organizations, working to promote racial, and health equity.
As an epidemiologist, Sai has more than 10 years of experience in epidemiological research and practice in maternal and child health (MCH), chronic diseases, oral health, occupational health, environmental health, injury prevention, and Alzheimer's Disease and Healthy Aging both at state and national level. Sai received his medical degree from NTR University of Health Sciences in India in 2004 and his Master of Public Health with a concentration on epidemiology from University of Kansas in 2010. He also received applied fellowship training through ASTHO's Environmental Public Health Tracking Network during the year 2019-2020.
He spent his entire career as a Senior Epidemiologist working with the Mississippi State Department of Health to enhance their capacity to use epidemiology to protect and advance the health, well-being and safety of everyone in Mississippi. His responsibilities include leading the Department's Chronic Disease epidemiology and evaluation efforts including directing a unit of five epidemiologists; developing the state's Health Equity surveillance framework, working with MCH/Oral Health programs in Health Services and other divisions; collaborating with state agencies, organizations, and universities on Alzheimer's Disease and Healthy Aging; and assisting Regional Health Departments and community partners.
Sai's major contributions to the epidemiology field include early efforts to develop a coordinated chronic disease epidemiology program, to innovate health equity surveillance framework, to adapt the perinatal periods of risk approach to assess infant mortality in Mississippi Communities, to propose child and adolescent health strategy domains, to formulate predictive analytics in drug overdose and injury prevention and to shape best practices in applied epidemiology. His current research projects include: maternal and infant mortality, child and adolescent health, chronic diseases, health inequities and social determinants of health, population-based continuous quality improvement efforts, access to childhood preventive dental care, Alzheimer's Disease and Healthy Aging and use of data file linkages in chronic diseases and MCH programs. He continues to mentor both ] fresh graduates and senior epidemiologists in public health practice around the state.
He is passionate about:
Learning, sharing, and collaborating on issues to bring about desired changes using the state's current strategic health plan as a guide;
Extending public health training to build essential inter-sectorial skills needed to address gender, race, and mental/health inequities.
Strategizing and acting to build bridges for additional exchange of knowledge and skills between public health professionals.